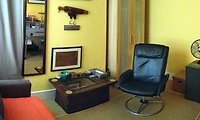 WHAT TO EXPECT
First, we agree a time for you to come to see me. I work weekdays.
This meeting will last 50 minutes, and it will give you an opportunity to ask questions and to get a feel for how I work. You will be able to use part of this time as a session. You can then decide whether you want to book another session with me. I charge £30 for that first session and £45 for couples.
There is no obligation beyond our first meeting.
If we decide to work together it would mean a weekly commitment on a time and day that is good for both of us. The weekly sessions would last 50 minutes or an hour for couples.
COSTS
Online sessions at present due to the Virus
Daytime sessions (before 5 pm) £75
Evening sessions £85
Couples £90 before 5 pm and £110 afterwards.
I do keep a few low-cost places so please let me know at
the assessment session what you can afford and I can let you
know if that is possible.
Start Close In
Start close in,
don't take the second step
or the third,
start with the first
thing
close in,
the step you don't want to take.

~ David Whyte ~